Baked Meatballs
I used to buy pre-made meatballs in the frozen section of the grocery store. They were so easy to prepare. Just put into a sauce, heat em up and they were ready to go. They taste pretty good…until you taste homemade meatballs. No comparison.
So I figured it would just as easy to make a bunch of meatballs all at one time. Freeze them for future dinners
Today I would like to share my meatball recipe with you.
I usually make this recipe x 4.
Meatballs
1 pound lean ground beef (or ground turkey)
1/2 pound ground pork or mild sausage
1/2 cup dry bread crumbs
1/4 cup Parmesan cheese
1 egg beaten
1/4 cup diced onion
2 tsp minced garlic (or 1 tsp garlic powder)
1/8 cup fresh parsley (or 1 tbsp dry)
1 tsp oregano (optional)
1 tsp basil (optional)
salt and pepper (optional)
Mix all the ingredients together in a large bowl.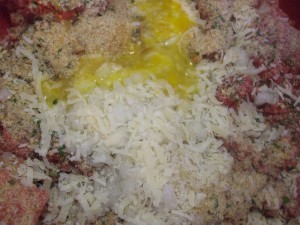 Wet hands to make shaping the meatballs easier.
This recipe makes 15 – 18 meatballs depending on how big or small you make yours. Make sure they are all about the same size so they cook evenly.
Put them on a baking sheet lined with parchment paper. Bake at 350 for 20 – 30 minutes.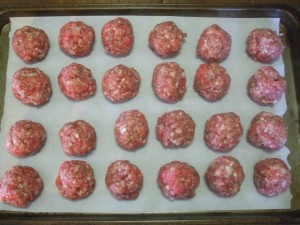 After they are finished transfer them to another cookie sheet. Let them cool down a bit.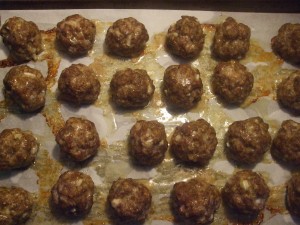 Place the cookie sheet in the freezer. After the meatballs are frozen put them in a bag or container and in the freezer until ready to use.
If you try the recipe let me know how you like them. 🙂