Cabbage and Kielbasa Soup

Cabbage has been on sale this week ( $.15 lb ). I decided to look up recipes using cabbage. It also is one of my favorite vegetables. It is high in vitamin K and C. There are several different ways of cooking cabbage. I found this recipe a while ago for cabbage and kielbasa soup. I changed it a bit.  The recipe says you can cook it for only an hour. I cooked it for several hours and the flavor was wonderful. You could easily adapt this for the slow cooker.
Cabbage and Kielbasa Soup

Print recipe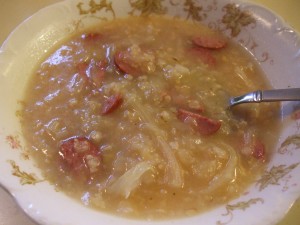 | | |
| --- | --- |
| Prep time | 30 minutes |
| Cook time | 1 hour |
| Total time | 1 hour, 30 minutes |
A simple soup recipe with cabbage, sausage and whole grain brown rice.
Ingredients
8 cups chicken broth
1 cup brown rice
1 tablespoon olive oil
1lb kielbasa
1 onion (halved and thinly sliced)
1/2 head green cabbage (cored and finely shredded)
1 teaspoon garlic powder
1 sea salt
1 pepper
Note
I used frozen homemade chicken stock and pre cooked frozen whole grain rice in this recipe. I also substituted turkey sausage for the kielbasa. 50 % less fat. I simmered my soup for several hours.
Directions
Add chicken broth to large dutch oven. Mine was frozen.
Slice onion in half and cut into thin slices
Cut kielbasa in half lengthwise and thinly slice.
Brown kielbasa and onion in fry pan.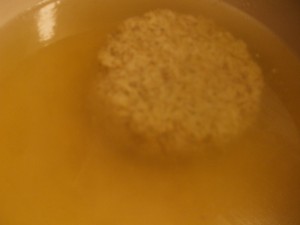 Add cooked rice to broth.
Add kielbasa and onion to broth.
Thinly slice half cabbage head.
Add cabbage to broth.
Add sea salt, pepper and garlic powder.
Simmer on low for at least one hour.