Simple Sweet & Tangy Coleslaw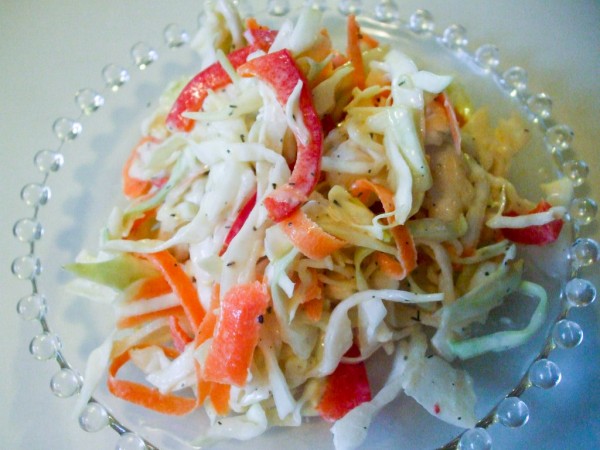 Since today is St. Patrick's Day I decided to post a recipe using cabbage. Not sure how cabbage got to be a favorite at St. Patrick's Day. Maybe because of the corned beef and cabbage you hear so much about.  Coleslaw is a summertime favorite around here. Summer will be here before we know it so save this recipe for all those family picnics you will be attending. This is so easy to make. Tastes great!
Cole Slaw

Print recipe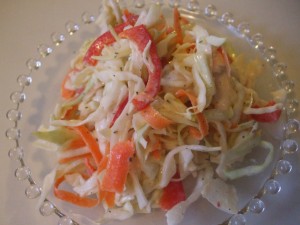 Cole Slaw with a bit of a twist.
Ingredients
1 head green cabbage (shredded)
1/2 cup carrot (shredded)
1/2 red pepper (thinly sliced)
1/3 cup mayonaise
2 tablespoons lemon juice
1 teaspoon sucanat / sugar
1/4 teaspoon sea salt
1/4 teaspoon pepper
1/2 teaspoon dill weed
Shared on: Kelly the Kitchen Kop , We Are That Family , Frugally Sustainable , Lady Behind The Curtain , Life as Mom , Miz Helen's Country Cottage , Everyday Tastes , Momnivore's Dilemma , Saved By Love Creation , Somewhat Simple , The Frugal Girls , Comfy In The Kitchen , French Country Cottage , The Shabby Nest , Stuff-and-Nonsense , Rattlebridge Farm , Real Food Whole Health , Hating Martha , In the Old Road