Pumpkin Pie Bars
This is my favorite time of the year. The fall colors, the cool crisp air, the rustle of the leaves when you walk are some of the reasons I love it so much. Pumpkins are another. I love the way they look and taste.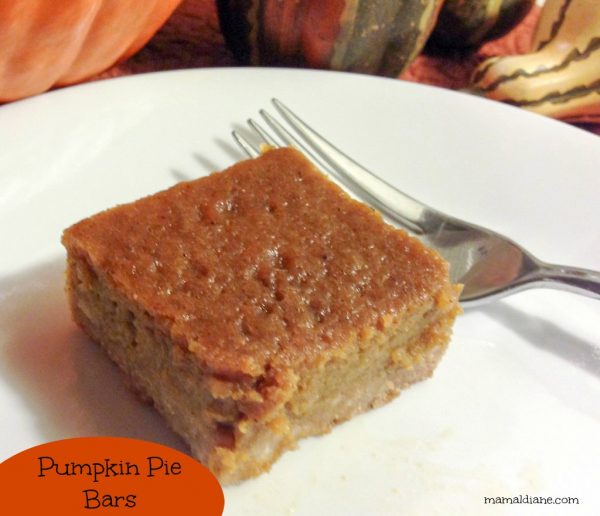 I bought several small cooking pumpkins from a local farmers market. The past years, I have grown my own, but I cut back on the size of my garden this year. My back has really been giving me problems and bending over and gardening for more than a half hour at a time, really puts stress on it. So I do a little, rest my back, do a little more, rest my back.  Plus pumpkins take a lot of space.
I use them for fall decorating outside until I need pumpkin puree. Then I cook them in the oven using this recipe. I love pumpkin pie and usually, make them on Thanksgiving so instead of making a pie I wanted to make something a little easier that you could eat with your hands if you'd like. I found a recipe and adapted to my liking. I must say this turned out better than I expected.
Crust:
1 1/2 cup whole wheat flour
1/4 cup quick cooking oats
1/4 cup brown sugar
1/4 cup cold butter
Filling:
2 cups pureed pumpkin or 1-15 oz canned pumpkin
12 oz evaporated milk ( I made my own using dry milk)
2 eggs
3/4 cup sucanat/sugar
1 teaspoon ground cinnamon 
1/2 teaspoon ground ginger
1/4 teaspoon ground cloves
1/2 teaspoon sea salt
I am using my a silicone pan. I'm still in the learning process on how to use the stuff. So far so good.

In a medium bowl mix with a fork the flour, oats, sugar and cold butter together.
Mix until it's crumbly.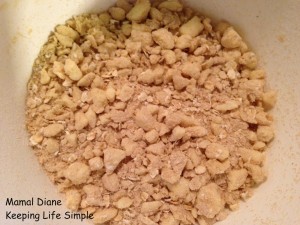 Press evenly into your greased pan. I placed mine on a cookie sheet to stabilize the silicone form. Bake in a pre-heated 350 F for 20 minutes.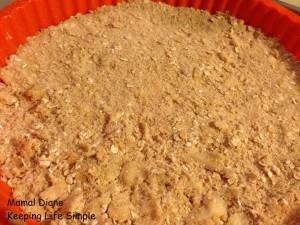 While the crust is baking In a large bowl mix together pumpkin
I didn't have any evaporated milk so I made my own by mixing 2/3 cup non-fat dry milk with 3/4 cup water to make 8 ounces of evaporated milk. I doubled the recipe because I need 12 ounces. Making your own is so much cheaper than buying the canned evaporated milk.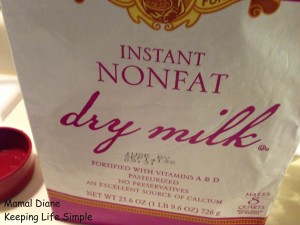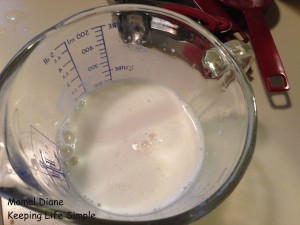 Mix together pumpkin, milk, sugar, cinnamon, ginger, cloves, and salt. Beat until blended.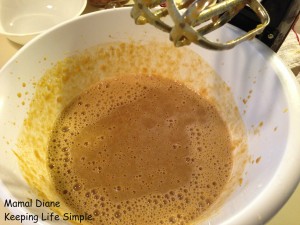 Pour over your baked crust.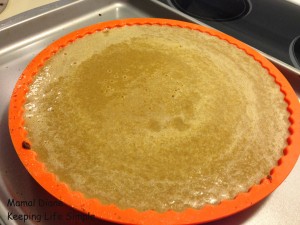 Return to the oven for about 30 – 40 minutes, or until a knife inserted in the center comes out clean.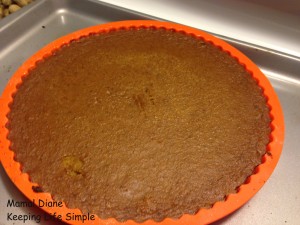 Remove from the oven and allow it to cool. Then remove from the pan. The silicone pan made it so easy to remove the baked pumpkin.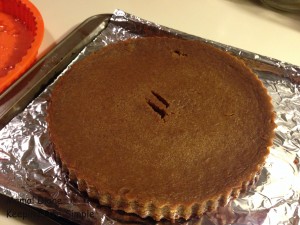 Cut into serving size pieces and enjoy. It tastes good. I hope you enjoy it! Do you have a special pumpkin pie recipe that you love to make?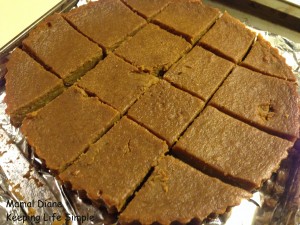 You may also like: