Planting Vegetables in Patio Pots
This post contains affiliate links. For more information, visit my disclosure page
Yesterday I spent most of the day puttering around in the yard. Enjoying the sounds and smells of spring. The day started with a nice chill, it stayed over cast much of the day. Perfect for being in the garden.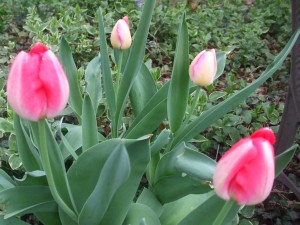 My brother Jim sent me a picture of his plants he started from seed a few weeks ago. They look great. I'm so jealous, I have had little success in that department.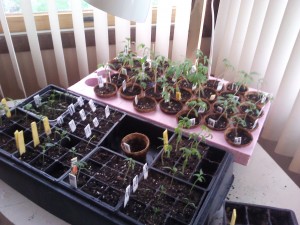 For the last 3 or 4 years I have been fortunate enough that a friend gives me almost all the plants I need that she grows from seeds. This year she is giving me some vegetable plants and flowers. I am so excited.
I planted 2 patio pots one with arugula and the other with mustard spinach. I am going to do several different vegetables in patio pots.
What you need:
 A large  patio pot.  Really any large container will do. Make sure you have drainage holes. I use plastic because they don't add much extra weight, easier to move. Plus it's what I already have. I am always looking for pots at yard sales. Recycle!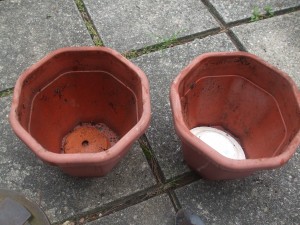 Fill with potting soil 3 to4 inches from the top.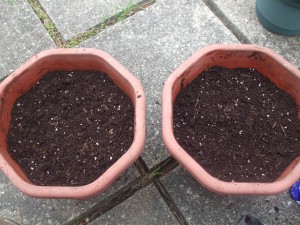 Sprinkle seeds on top of soil according to the package. I admit I place mine closer together then recommended. They are so small I doubt you can see them in my photo.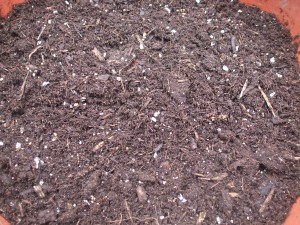 Loosely cover with recommended amount of soil. The mustard spinach was 1/4 inch and the arugula was 1/2 inch. Another little helper of mine, Emma.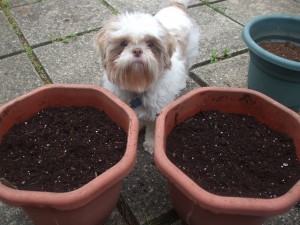 I sprinkled them lightly with water. The arugula has a 5 – 8 day germination time. The mustard spinach has a   9 – 12 day germination time. I will water them daily until they germinate. I will post updates. 🙂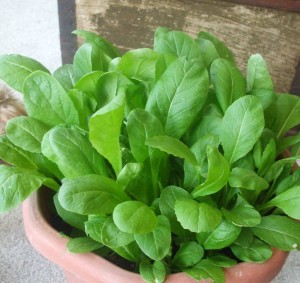 Shared on: Cozy Home Scenes , Frugally Sustainable , Flamingo Toes