Chicken Soup with Fresh Vegetables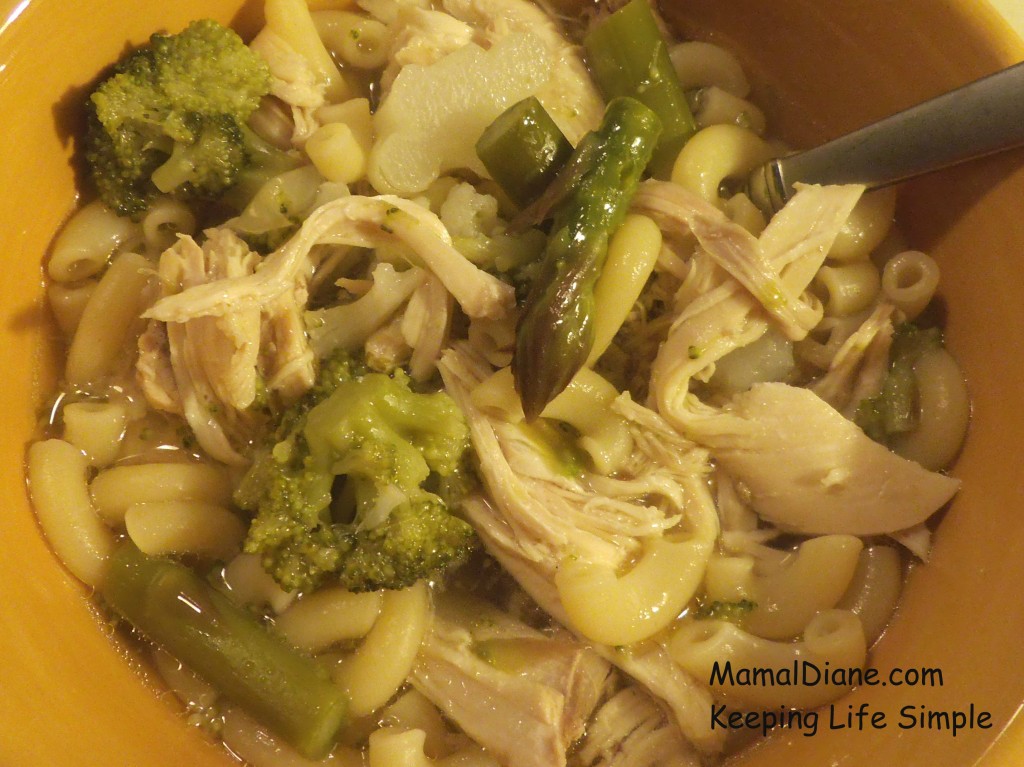 I love making soup this time of year. It's still cold and with so many people sick making chicken soup is both good for you and comforting. This recipe is a variation of my regular chicken soup recipe. The difference is you add these fresh vegetables in the final minutes of cooking. The veggies stay nice and crispy firm 🙂
You'll need:
whole chicken
1 small onion
3 cloves garlic
bay leaf
1 bunch broccoli
1/4 head cauliflower
handful of asparagus
sea salt and pepper to taste
Place your chicken In a large stock pot.

Add onion, garlic and the bay leaf. Bring to a boil. Turn down heat enough to keep a slow simmer boil. Simmer for at least 1 1/2  to 2 hours.

Remove the chicken and the bay leaf. Set aside to cool so you can remove the chicken without burning yourself.

Remove all the chicken from the bones. It should fall off the bones.

Put the chicken back into the broth. Keep the broth on a low simmer.

Now chop up the broccoli, cauliflower and asparagus into bite size pieces. Put into simmering broth

Simmer for 5 minutes or until the vegetables softened a bit.

Serve with a nice slice of crispy bread 🙂 You can add any vegetable that you like. My family loves these three.
Shared at these parties.