Sweet Italian Sausage Spaghetti Sauce
This post contains affiliate links. For more information, visit my disclosure page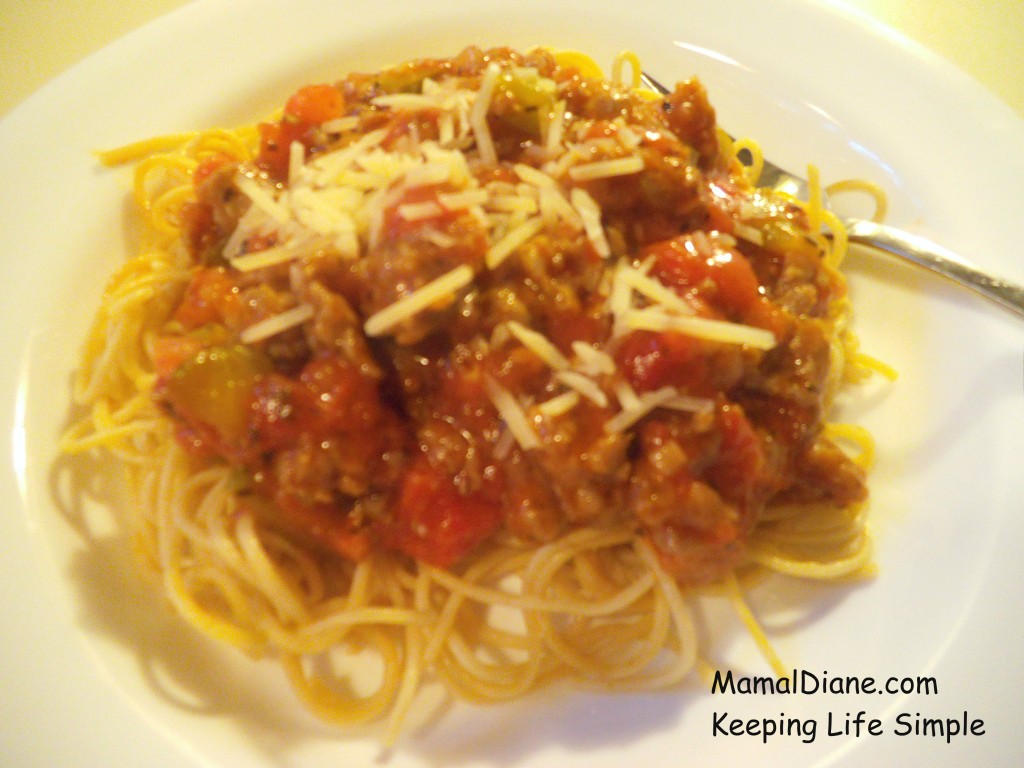 I've become pretty good at making spaghetti sauces. Each one a little different from the other. Today I want to share an easy spaghetti sauce recipe with sweet Italian sausage. You can make this quick or let it simmer in the crock pot all day. Today I'm making it the quick way. I use Johnsonville Sweet Italian Sausage. I am usually able to get this on sale with a coupon for less then $2.00 lb.
You'll need:
I pound sweet Italian sausage
1/4 cup diced onion
2 – 3 cloves of garlic minced
1/4 cup green pepper
1 quart tomatoes (used my canned tomatoes :))
1/2 teaspoon dried oregano or fresh
1/2 teaspoon dried basil or fresh
First I remove the casings from the sweet Italian sausage and brown it in a large fry pan or dutch oven. Add the onion and garlic as it starts to brown and cook until sausage is no longer pink. Drain the excess grease.
Add the diced green pepper.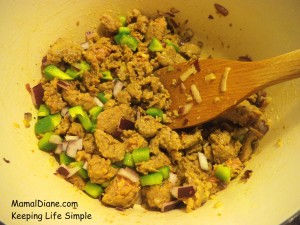 Add the tomatoes, oregano and basil.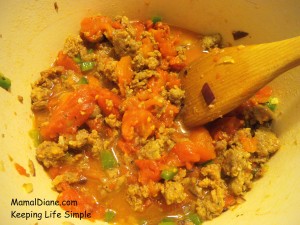 I will let my sauce simmer for as little as 20 minutes if I'm in a hurry or let it simmer for many hours. The longer it simmers the thicker it gets. If I'm in a hurry I add a little fresh grated parmesan to the sauce and it thickens it up. (Did you know that you can thicken sauces with the rind of fresh parmesan? I didn't have any, I usually have some on hand to toss in. It really works).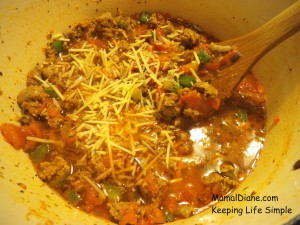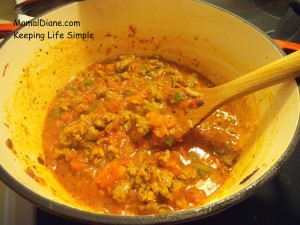 Cook up some pasta and serve. I found this great tasting whole wheat angel hair pasta from Meijers. I love it. I know some people have a hard time getting used to eating whole wheat pasta. This brand and type at Meijers is the best I've tasted.

Top with some fresh parmesan. Enjoy 🙂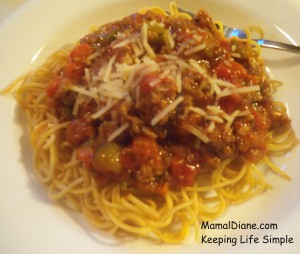 Shared at these parties