Crystal Hearts Made With Borax ~ Preschool Valentine Craft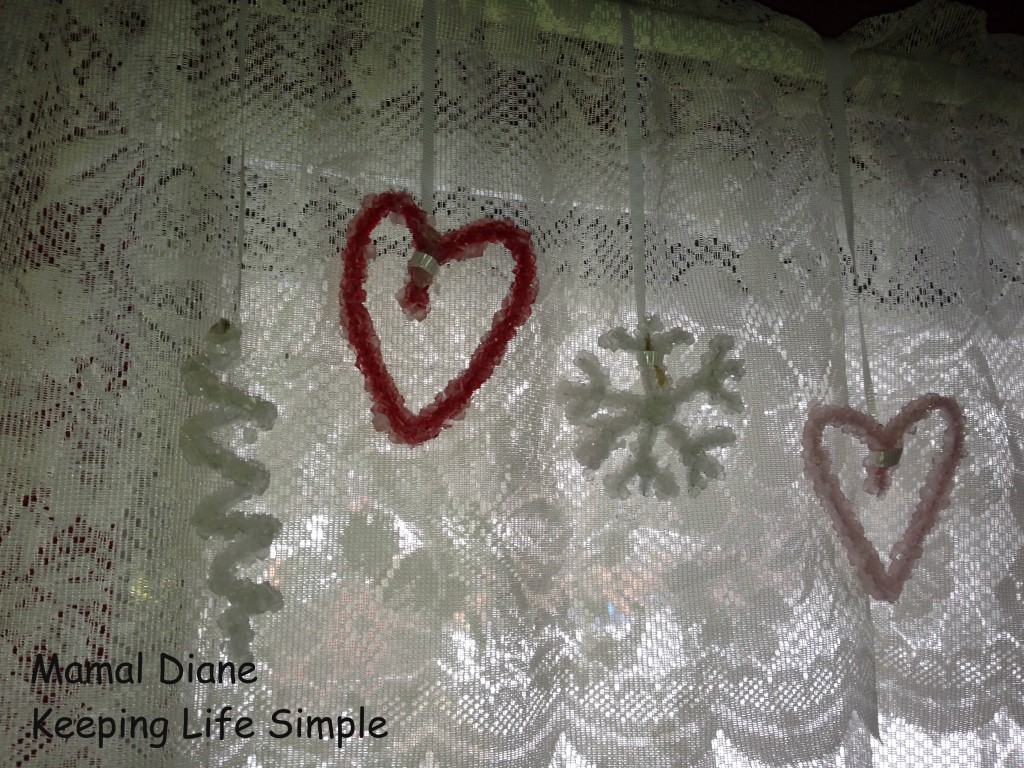 I was searching the internet looking for a Valentine craft for Katie and I to do. I found this really simple but I thought amazing craft on Pinterest. I had all the ingredients on hand since I make my own laundry soap which calls for borax. My first thought was is Borax safe? So I did a little research and found out it is fine to work with. Of course DO NOT inhale or ingest any of the borax! This craft is really cool, it also includes a little science.  It was fascinating watching the crystals form.
You'll need: 
1/3 cup Borax
Pipe cleaners
Popsicle sticks (I used pencils)
string
glass jars
boiling water
food coloring

First we made our shapes with our pipe cleaners as we boiled the water on the stove top.

We used our string to tie the pipe cleaner shapes to the pencils.

Now pour in the boiling water, then add the 1/3 cup of borax. Stir until mixed. We added red food coloring to the white heart's jar. Lower your pipe cleaner shapes into the jars after all the borax has dissolved.

Leave to set at least over night. We did this on a Sunday and the kids came back over on Monday night and took them out.

We let them dry for a little bit on paper towels.

See how nice and pink the one with the food coloring turned out? This one was Katie's favorite. She is going to give it to her Mommy, shhhh… don't tell.


We cut off the string and added a pretty ribbon so we can hang them up..


I share at these parties