Chicken Sausage & Rice with Cooking Planit Review
Disclaimer: I received a copy of the Cooking Planit app and T-Fal Cookware set to use for my reviews. I agreed to write a post on each. In no way will that influence my opinions about the products. As always I will give you my followers my honest opinion 🙂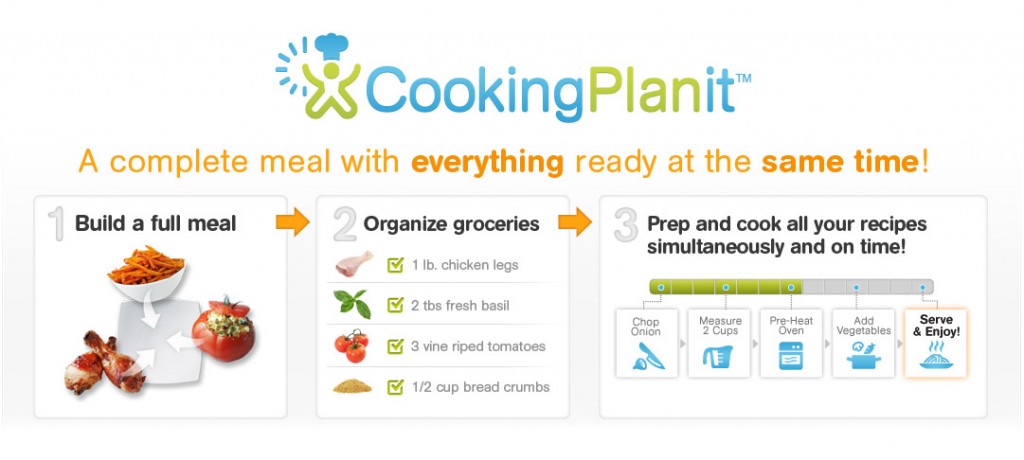 I have been having so much fun getting aquatinted with this cool Cooking Planit app. It's part of the awesome T-Fal stainless steel pots and pans giveaway I have been talking about these last couple weeks. My giveaway starts on Sunday September 1st! I can't wait to be able to give a set to one of you.
Today I am am going to tell you about the Cooking Planit app. I love using my iphone to look up recipes when I cook. This app is loaded with lots of great recipes, It helps you plan a dish from start to finish.
You can download a free version of the app on your iPhone, iPad or computer. Or you down get the full version here on iTunes.
First you search the recipes. You can enter ingredients you have on hand and it will suggest recipes for you. I wanted to use my fresh peppers. I found a recipes using my peppers and chicken sausage.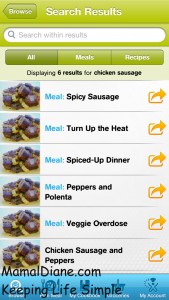 I chose the Chicken Sausage and Peppers.  It will show you a list of all the things you will need to make the recipe. You can even adjust the serving amount. Pretty cool huh?
I decided to plan a meal, which means you can choose multiple recipes and Cooking Planit will organize all the ingredient and steps to make the meal successfully. It keeps getting cooler doesn't it? I'm not exactly tech savvy and I'm figuring all this out. I love how easy it is to use. It makes a grocery list for you. I just pulled up the list at the store and checked off the ingredients as I put them in my basket.
Now on to the recipes. I chose the Chicken Sausage and Peppers with Buttery Rice. Let me say my husband is still talking about how good this recipe was. He has been telling everyone 🙂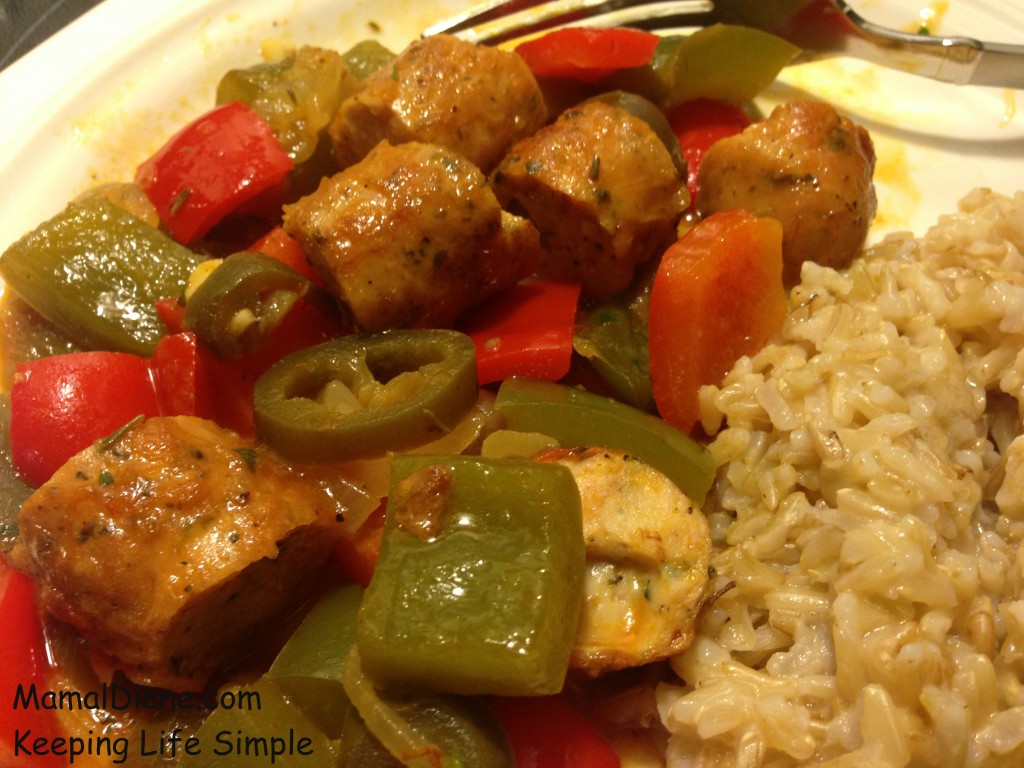 You'll need:
1 1/4 pound chicken sausage
1 green pepper cut into one inch chunks
1 red pepper cut into one inch chunks
1 clove garlic minced
1/2 cup half moon sliced onion
2 tablespoons fresh parsley
1 tablespoon tomato paste
1/2 teaspoon dried oregano
1/8 teaspoon crushed red pepper
salt 
pepper
olive oil
banana pepper rings ~ I spiced it up and used jalapeno peppers 🙂
1/3 cup dry white wine ~ I substituted chicken broth
For the rice:
2 cups of jasmine rice ~ I used basmati rice and it took a bit longer to cook
2 cups water
1 1/2 cup chicken broth
In my beautiful new T-Fal saute pan I heated 1 tablespoon olive oil over medium heat.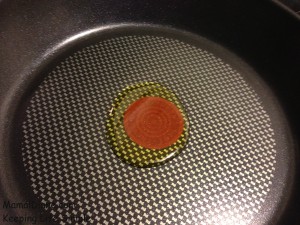 Add the chicken sausage. You can use any sausage you like.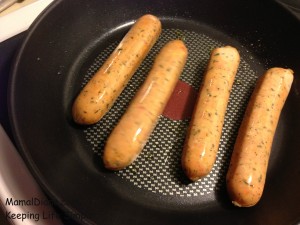 Brown the sausage on all sides, about 5 to 7 minutes. Remove to a clean plate.
Now for the Buttery Rice. Add 2 cups rice with 2 cups of water and 1 1/2 cups of chicken broth. Bring to a boil. Stir. Reduce heat, cover and simmer for about 15 to 20 minutes. The Cooking Planit app has a built in timer. My rice took longer then 20 minutes but you can add time on if needed.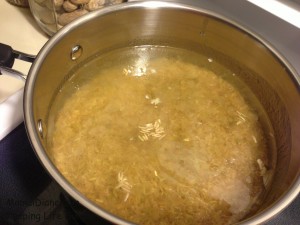 Bring the the pan back to medium heat, Add a little more olive oil if needed.  Add your onions, garlic, peppers and oregano to the heated pan.  Crush the oregano with your fingers while adding to the pan. Mix.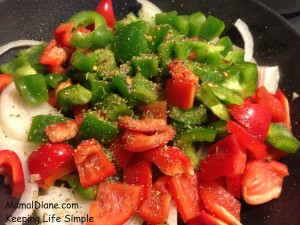 Cut you sausage into one inch pieces.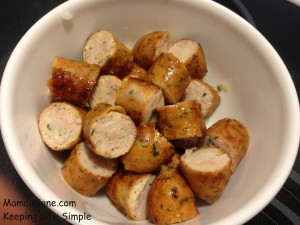 Add the tomato paste to the caramelized onion and peppers and mix. Add the sausage
Cover and heat through. About 7 – 10 minutes.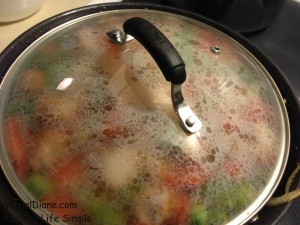 Stir often. The smell is incredible. Stir in the banana or hot peppers and parsley. Heat for a couple more minutes.
Once the liquid is absorbed in the rice fluff with a fork, stir in butter, salt and pepper.
Now comes the good part. Eat.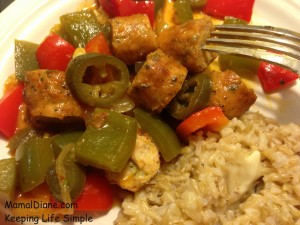 The Cooking Planit app made cooking a breeze. Even with many interruptions I was able to stop and start and keep everything in order and flowing nicely. For those of us with busy lifestyles (just about all of us) this app is a blessing.
Here is my review of the T-Fal stainless steel pots and pans. Sunday September 1st 

my giveaway

will start and last for only one week. I am so excited! If you would like to increase your chances of winning you go to one of the other 49 blogs participating and enter their contests too.
Good Luck 🙂
Here are the rest of the blogs participating for all your other chances to win.
DETAILS: Contests open to US only. Limit one-winner per household/per family from the 50 blogs participating in the promotion. If an individual is the winner of more than one giveaway, they will receive only one set of cookware and an alternate winner will be chosen for the other set.