Pound Cake with Fresh Strawberries Whole Wheat & Sour Cream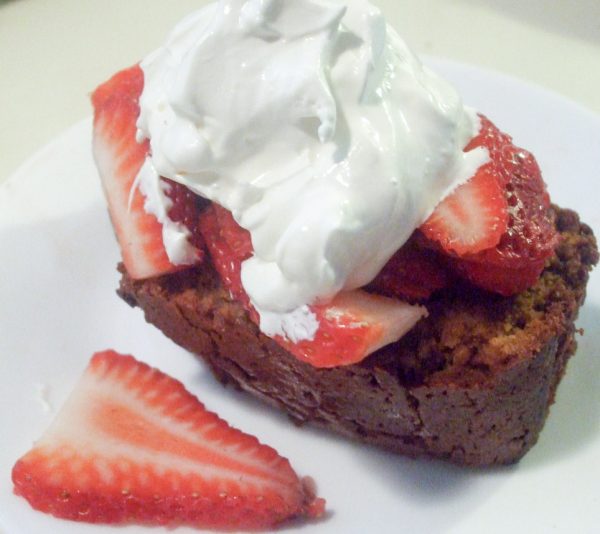 Yesterday I spent  the day with my grandkids and my mom. We were able to spend a little time outside later in the afternoon. Katie likes to help her little brother. Sometimes he likes it, sometimes he doesn't… Aunt Marti brought over a new garage sale find. Tyler wanted to stay in all day.
It was chilly and windy early in the day. Since it was chilly I decided we should bake something, and since I had some strawberries begging to be eaten in the frig.
I searched for a recipe for pound cake to put under the strawberries. I found the recipe here and changed it using whole wheat and sucanat. Using the whole wheat and the sucanat gives it a darker color. I think it weighed more than a pound…ha ha.
The original recipe called for baking it an hour. I took mine out at 55 minutes. I think you should check at 45 or 50 minutes. 5o would have been perfect. It tasted yummy.
[gmc_recipe 3574]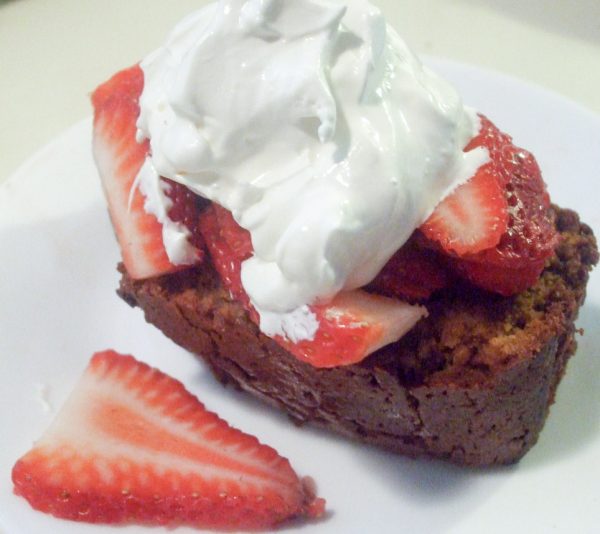 Shared at: 5 Minutes for Mom , Our Simple Farm , Frugally Sustainable , Full Plate Thursday , Happy Hour Friday , Things I've Done Thursday , Ultimate Recipe Swap , It's A Keeper Thursday , Creative Juice , Fight Back Friday , Feathered Nest Friday , Frugal Friday , Fridays Unfolded , Foodie Friday , Fresh Bites Friday , Stinky Linky , Kitchen Fun Crafty Link Party , Fabulous Friday , Weekend Blog Hop , Kids in the Kitchen , Here Comes the Sun, Michelle's Tasty Creations , Too Much Time , Country Momma Cooks , I Am Addicted to Recipes , The Tablescaper , Flamingo Toes , Homemaker in Heels , Marvelously Messy , My Favorite Finds , Flour Me With Love , Create with Joy , Slop Swap , The DIY Dreamer , Talking Dollars and Cents