The Gathering Spot # 61

Welcome to The Gathering Spot this is a linky party. I hope everyone is having a  good start to the week. I had some excitement this past Friday. My grand daughter hit her head on my bathroom counter and had to get 15 stitches. She was a brave little trooper during the whole thing. First thing she wanted after it happened was her Papal 🙁 Actually so did I. It was quite the trauma for everybody. My Mom (who has Alzhiemers) kept saying "what's wrong with that kid. Can't you keep her quiet? She's driving me nuts". I mean really Mom are you kidding me? She's driving you nuts…look who's talking. lol. It was quite an afternoon.
This week's feature is from Danielle at Peanut Life Adventures. She shared Cook-out Organization. Danielle is a newlywed and shares her new cooking skills on her blog. She loves to bake and do crafts. Make sure you stop over and check out the newlywed's adventures.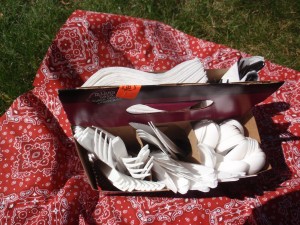 You can grab my button if you have been featured. Thanks to all who linked up for last weeks blog hop. So many fantastic ideas. If you didn't get a chance to visit last week you can go here and take a look.
Feel free to share your recipes, crafts or whatever it is you have been doing the past week from your blog with my followers. If you are not a blogger feel free to leave comments with your ideas. Each week I will feature the link that had the most clicks from the week before. I will also be featuring posts through out the week on my facebook page, and twitter. All I ask is that you follow my blog by any of the ways I have listed, or on my side bar. Leave a comment and let me know you are a new follower and I will follow you back. Please link your post back to the blog hop. You can grab my button from the sidebar or simply add a text link somewhere on your blog. With all that being said…Let's Party!
Please follow and like us: