The Gathering Spot # 42
Welcome to The Gathering Spot this is a linky party.  I hope everyone had a great Monday. Check my my new button. Cute isn't it? It's all part of my blog make over. It's almost finished. I know Katherine would like to be finished by now but I keep dragging my feet…not my cute little green feet but my big lazy size 8 feet. Thank you for your patience Katherine.
This week featured post is by Mary from Mary's Kitchen she shared a great post about Foods that Fight Inflammation. She has so much information on her blog. I am an avid follower. Make sure you spend some time over there. Lots to learn 🙂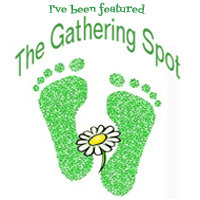 You can grab my button if you have been featured. Thanks to all who linked up for last weeks blog hop. So many fantastic ideas. If you didn't get a chance to visit last week you can go here and take a look.
Feel free to share your recipes, crafts or whatever it is you have been doing the past week from your blog with my followers. If you are not a blogger feel free to leave comments with your ideas. Each week I will feature the link that had the most clicks from the week before. I will also be featuring posts through out the week on my facebook page, and twitter. All I ask is that you follow my blog by any of the ways I have listed, or on my side bar. Leave a comment and let me know you are a new follower and I will follow you back. Please link your post back to the blog hop. You can grab my button from the sidebar or simply add a text link somewhere on your blog. With all that being said…Let's Party!
Please follow and like us: