Stove in a Can Review & Giveaway! (Ends 7/4)
This post contains affiliate links. For more information, visit my disclosure page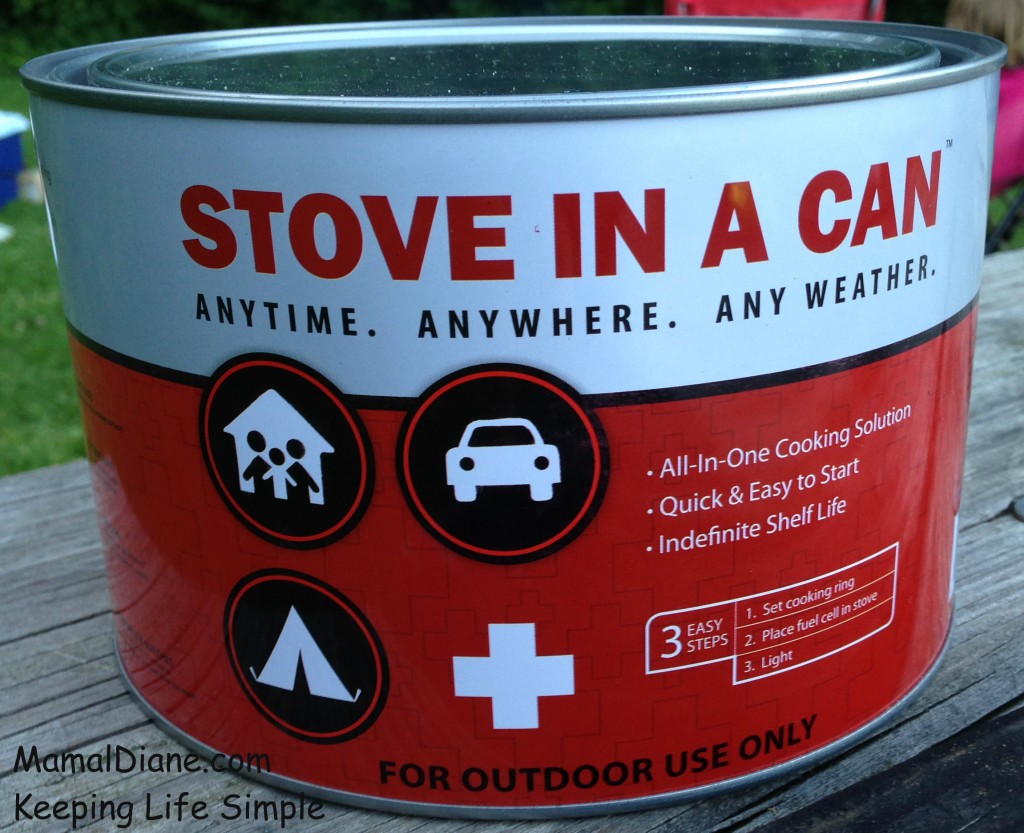 I have to admit when I was offered to do this review and giveaway I was beside myself with excitement. We had planned on taking the grandkids camping this summer and having a Stove in a Can sounded like a perfect cooking solution. I love roughing it, lol. I pride myself on my camping skills. I used to be a Girl Scout and Girl Scout Leader for many years. I always loved the camping part the best. Especially camp cooking. Even cleaning up. 🙂
For the past several weeks I been telling my friends that I am reviewing Stove in a Can.  Everyone is very interested in how it turned out. So here we go!
Stove In A Can is a portable, self-contained cooking platform that provides a week's worth of cooking. Virtually anything that can be cooked on a regular stove can be cooked on a Stove In A Can.
Cooks for 4-6 hours (1 week's worth of cooking time)
Boils water in 5 minutes
Can hold over 300 lbs of weight
Stores indefinitely and safely (no dangerous chemicals)
Can be lit and re-lit
Stove in a Can is about half the size of a can of paint. First pop the top. Take out all the items and read the instruction!

It's very simple. Take the fuel ring and coil it. Place it in the bottom of the can. Place the Cooking ring on top.

Place your fuel cell on the fuel ring. Pull the edge up so it's easier to light.

Light the fuel cell using the waterproof matches that are included.

You are ready to start cooking. You can either use the lid as a cooking surface or cook right on the cooking ring. It takes a little longer when you use the lid.
The first thing I did was boil water so I could wash my hands and face after we set up camp. It heated the water very quickly.
I made french toast and scrambled eggs for breakfast. They turned out great. It was like cooking on a gas burner. It flames up and you need to use caution like with any other heating device. It was windy some of the times and it still worked great.
Putting out the flame was simple. All you do is remove the cooking ring and put the lid on top and it extinguishes the flame.

When you are finished it packs up easy. I put everything back in the can, put the lid on and wiped the outside off. It is now packed up with the rest of our camping gear ready for our next trip.
I can honestly say I loved using this Stove in a Can. I will use it the next time we go. It's also something that I think we all should have on hand just in case the power goes out.  It stores nicely, is inexpensive and is not dangerous to store or carry. You can even take it backpacking. It's that portable.,
Woulds you like a chance to win your very own Stove in a Can?  Enter the rafflecopter below! Good Luck!
Safe – Non-explosive, non-hazardous, and clean-burning fuel means you can take it, store it, and cook on it wherever you need it. Because it is so much safer, there is no legal limit as to the quantity you can store in your home like there is for other fuels.
Reliable – Has an indefinite shelf life and works great in extreme weather conditions. Fuel cells are totally waterproof and will light in seconds, making it great for emergencies, or for camping and other recreational uses.
Superior Performance – Boils water in less than five minutes and cooks for over an hour on a single fuel cell.  Because most meals only require 15 minutes of cooking, that is almost 1 weeks' worth of cooking. At up to 18,000 BTU's, it burns hotter than most other outdoor stoves thanks to our specially formulated fuel cells.
Convenient – Compact, lightweight, and ready for cooking in less than a minute.  Includes fuel, platform, cooking rings and waterproof matches…nothing else is needed.
Energy Efficient – Patented design conserves energy and maximizes heat output.  Fuel cells can be extinguished and re-lit  as needed to maximize usage.
Environmentally Conscious – Fuel cells are made of recycled, all natural materials.  Ashes will be safe to dispose of anywhere.
Robust Solution – Highly efficient source for heating and lighting. Wide base for enhanced stability that can support over 300 lbs.
Flexible – Design and fuel cells that allow for multiple uses. Owners have found numerous innovative uses beyond what we imagined.
I received one or more of the products mentioned above for free using Tomoson.com. Regardless, I only recommend products or services I use personally and believe will be good for my readers.