Rise and Shine Giveaway!
 Rise and Shine!
Early morning is my favorite time of the day. It's usually quiet and I am physically and mentally my best in the early part of the day. I'm one of those people who wakes up without an alarm every day at 5:30 AM.
In celebration of all the early risers, I'm joining my friend Katherine from Katherines Corner and the Katherines Corner Shop for her
Rise and Shine Giveaway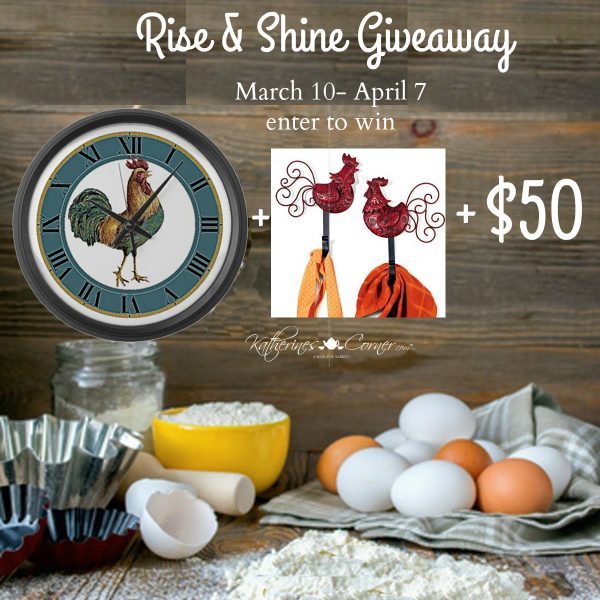 One winner will receive a Vintage Inspired Rooster Clock and A set of Rooster Hooks from Katherines Corner Shop and a $50 Cash prize or Amazon gift card ( winners choice) provided by Katherine and her Hostesses. This giveaway is not endorsed or affiliated with Amazon or PayPal.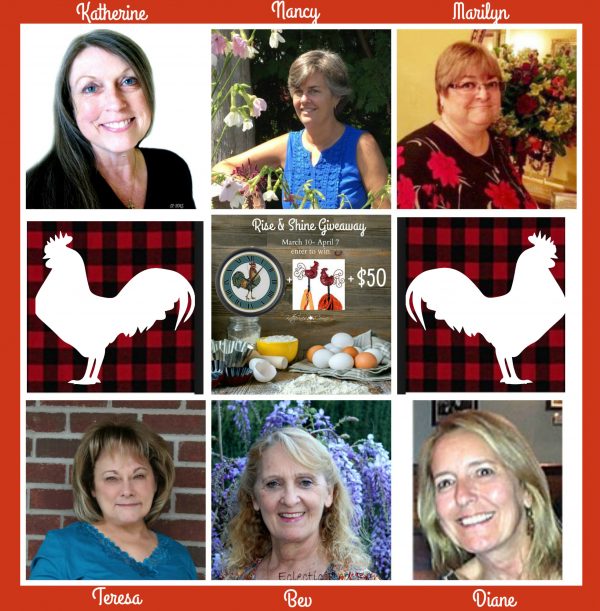 Please remember to follow your sponsors and all of the hostess so you can get all of your entries!
Katherine- Katherines Corner
Diane-Mamal Diane
Bev- Eclectic Red Barn
Teresa-Aging Like Fine Wine
To enter please log into the entry form using your email address or facebook login
Disclaimer-Katherines Corner may receive compensation for reviews and advertising provided. However, no compensation will influence the outcome of any review. Katherines Corner provides reviews to readers in order to provide an informed decision before purchase. Katherines Corner and its affiliate Bobskatie Enterprises reserves the right to not publish a review of a product or products that do not meet the specified instructions provided to product submission companies or individuals. Reviews are posted in the appropriate section at Katherines Corner and also at Amazon.com ( subject to products availability) This in accordance with the Federal Trade Commission's 16 CFR, Part 255: "Guides Concerning the Use of Endorsements and Testimonials in Advertising."
To enter please log into the entry form using your email address or facebook login
Good Luck in the Giveaway!
Please follow and like us: