Natural Thyroid Support Actalin™ Free Trial Offer (30 day Update)!
This is a sponsored conversation written by me on behalf of Medix-Selects in conjunction with Blog Meets Brand. The opinions and text are all mine.
Today I'm sharing a Natural Thyroid Support Actalin™Free Trial Offer with you!

The thyroid is one of your body's tiniest glands, it's located in your neck just above your Adam's apple. It may be small and not look important but it's one of the most powerful glands in the whole body, secreting hormones that are involved in just about every crucial function that takes place in your body, heart, digestion, brain function, and more!
Millions of people suffer from chronic conditions and don't realize it's their thyroid. Have you experienced unusual fatigue, rapid weight gain or loss that you can't seem to fix, frequent mood swings, sudden hair loss, unusual heart problems, sleepless nights, frequent bathroom visits, even bouts of agitation and you find your hands trembling? All of these problems may be linked to your thyroid!
I remember sitting at the kitchen table with my dad, eating breakfast before school, he would have his head in his hands. I would ask him what was wrong. He would always say he had to "wait for his eyes to start focusing". Dad wasn't a complainer, I was young and didn't really know what was going on. I learned years later that he had a thyroid condition (Graves disease) that went undiagnosed for years. Thyroid disease went undiagnosed frequently. My dad's eyes bulged out, he had double vision and was never able to see clearly again.
My sister has since been treated for a thyroid condition and has been on medication for years. Her oldest daughter had a goiter removed when she was 3 years old. I had part of my thyroid removed 10 years ago during a surgery to remove a tumor next to my nonfunctioning parathyroid. So in my family, we are always asking our doctors to check our thyroid.
When I first heard about this product Actalin I admit I was immediately skeptical. I did some research and found out it's not a drug it's a nutritional supplement. It's a new natural breakthrough containing 17 hand-picked ingredients to specifically target your optimal thyroid health, along with your adrenal health and general wellness. I am excited to start my FREE bottle of Actalin™. If you are a regular follower of the MamalDiane you know that I try to do things the natural way. This nutritional supplement has me very excited!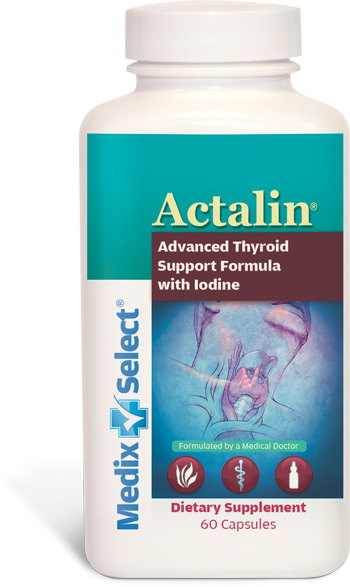 Actalin is made by an MD who has worked with many thyroid conditions. He began to see similarities of deficiencies in his patients. Dr. David Brownstein spent years treating his patients with this formula. Dr. Brownstein is also offering a way you can try Actalin™ Free (you pay only $4.95 shipping and handling.)
Sign up right now for a free 30 day supply of Actalin™ (a $39.95 value).
You will also get Dr. Brownstein's Special Report "A Doctor's Guide to a Healthy Thyroid" as a bonus gift. This downloadable special report is packed with information and practical advice on optimizing thyroid health.
I'll keep you updated on my progress. Or maybe you order your FREE Actalin™ and come back and share your experience with me!
Updated 9/28/17

– I am now into my second month of taking Actalin™ to support my thyroid function. For quite some time I've not felt… right. It's been hard to explain to my doctor. Almost every woman I talk to just shake their head in agreement and then we share symptoms and the horrors of aging! Ugh, I was tired of hearing it and feeling that way. Sure, menopause is a b&#%h, but that this was something more, at least that's how I'd been feeling.
By day 3 maybe even day 2, I could feel something was different. I felt stronger like I could breathe deeper. One very distinct thing I noticed immediately was when I bent over at the waist I didn't get light headed! I couldn't believe. Since then I've tested myself every day to see if I feel light headed and I don't. It makes doing things much easier when you don't have to regain your equilibrium everytime you bend over. 
I also consulted with Dr. Ewing DC. and Dr. Lugo MD. I wanted their professional opinions as to whether this natural thyroid support could make a difference. 
So tell me, have any of you started your 
Actalin™
Free Trial Offer and want to share your experience so far?
Please follow and like us: